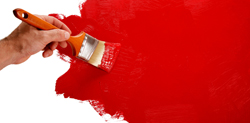 Exterior painting refinishes the protective coating that helps keep your home or commercial building in great shape. While we have many months of beautiful weather, the harsh Missouri winters can really do a number on the exterior surfaces, so you need exterior painting when the color starts to fade and is looking run down or dull.
If you are looking for a painting contractor in Springfield, the quality of their workmanship matters. Whether it's for new construction or an existing building, the exterior painting work must be handled right or you'll wind up with exposed exterior surfaces that get damaged from moisture and the extreme cold we often face here.
The better quality paints will last many years longer than standard paint, so it's important to use durable products when exterior painting. Also, the painting contractor in Springfield that you choose will make a big difference in how long the results last.
Tips On Exterior Painting Contractors
If you're looking for exterior painting help, you're probably looking for the same type of ongoing relationship with painting contractors you can count on so you can have your home or business fixed up as you go and not have to search every time you need something done. For many customers, improving their property is an ongoing project, so the last thing you want is to have to redo work that wasn't done right. Find a good painting contractor and you can keep calling them back whenever you want to improve your property.
Whether it's for your entire building or only for some trim work or deck staining, the exterior painting contractors of your choice not only need to be fully experienced, they should use quality paint and sealants that are applied correctly in order to ensure the project is completed perfectly, and you need to know you can count on them to be there for you when you need them.
Having painting contractors who can't finish the job, don't show up for work, produce sloppy work, or don't respect your home when cleaning up are not the type of exterior painting contractors you want working on your Springfield home or commercial building.
It just simply isn't worth having to repaint again or have the refinishing redone correctly by someone else. And you sure don't want to deal with sloppy work where there is overspray or light fixtures and roof vents painted over because your painting contractor was too inexperienced or lazy to protect them first. Have you ever tried to get paint off a concrete patio? Trust us, it isn't easy.
Choosing colors to use for the exterior paint job isn't easy unless you have the training to make it so. While most homeowners resort to purchasing sample colors to see how it will look, this often doesn't work well because a small patch of color doesn't look the same as a whole house painted in it. Choose a painting contractor who will provide a color consultation with their exterior painting service.
Experienced, Professional Exterior Painting Service
As experienced painting contractors in Springfield, All About Paint, LLC has found that most of our customers were looking for professionals that they can go to again and again whenever they need painting services for their homes or businesses. It's important to know that there is someone to call who can be counted on for good, consistent quality work. Whether it's residential or commercial, the results of the exterior painting should always result in perfection. Otherwise, you won't be satisfied with their work.
Finding the right exterior painting contractors may not be easy, but if you've gotten this far then your search is over. You'll have everything you need and more with our painting contractors at All About Paint, LLC where we strive to get the highest mark possible from our customers. Plus, we can help you with a color consultation to ensure you get the outstanding results you want.
We are passionate about knowing we've done good work and that our customers are happy with the results. This desire keeps us on our toes and helps us to maintain relationships within our community and with our most valuable asset -you, our customer!
If you're looking for a professional Springfield painter, then give us a call today at 417-880-7834 or complete our request estimate form.