Lifetime Exterior Maintenance Program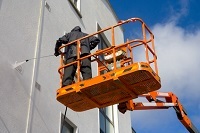 All About Paint is excited to offer a new service to our customers in Springfield and the surrounding areas. a Lifetime Maintenance Program on your exterior painting project. When you use All About Paint for your exterior painting we want your home to look it's best at all times! If you purchase an Exterior Paint Job from All About Paint you will also have the opportunity to add on our Lifetime Maintenance Program.

Here is how the service works...
What you get
Annual power washing of your home to clean the exterior and keep your new paint job looking fresh and extending the life of the paint
Power washing the exterior of the windows so that they drain properly
Inspection of your sprinkler system (if you have one) to make sure they are not spraying your home, which could reduce the life of your paint job and damage your home
Inspect all exterior caulked joints for failure that could lead to damaging water leaks and air leaks that can raise your heating and cooling costs
Inspect the paint for any fading, cracking, chalking, or peeling
In case of paint failure caused by manufacturers defect, we will work with the manufacturer to get your Maintenance Program issues fixed
Inspect gutters and downspouts for leaks and proper drainage
A detailed inspection report of our findings upon inspecting your home along with any suggestions we might have to fix problem areas
Benefits
Knowing that a trained professional will be inspecting your home on a yearly basis and can catch problems early before they get costly
Keeping your home looking it's best year after year for a cost that is less than we would normally charge to only power wash your home.
Lower heating and cooling bills due to failed caulking joints
Added value that your paint job will look great and last for years to come
Peace of mind that your home is protected from costly water damage and air leaks
How does it work?
When you purchase an exterior paint job from All About Paint you will have the option of adding on the Lifetime Maintenance Program
If you choose the Lifetime Maintenance Program we will come back every year after the paint job is complete and perform a power washing and inspection
We will schedule the time and date with you a month prior and once we have completed the inspection and power washing we will send you a detailed inspection report and an invoice for the program to be paid within thirty (30) calendar days
If we find problems with your home that aren't paint related or due to lack of craftsmanship by All About Paint we will either offer to fix the problems at a low cost to you or refer you to a company who can take care of it for you
The Lifetime Maintenance Program continues for the life of your home until you request otherwise or if an invoice for the program goes unpaid for ninety (90) calendar days
The Lifetime Maintenance Program is transferrable, one time, to a future owner of the home
What does it cost?
The cost of the Lifetime Maintenance Program will be per year starting one calendar year after your paint job is completed and invoiced yearly after the inspection and power washing is completed. See below for approximate pricing structure.
Single level, single family home - Approximately $150 per year
Single level, duplex homes - Approximately $175 per year
Two-story, single family home - Approximately $250 per year
For business structures - Call 417-880-7834 for pricing
Painting Services We Provide in the Springfield area
If you are looking for an experienced Springfield painter then please call 417-880-7834 or complete our online request form.