About All ABout Paint Painting Company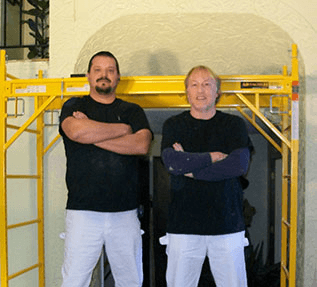 All About Paint LLC is owned and operated by Don Goddard (pictured on the left). Don was born and raised in the Springfield, MO area and started working in the remodeling field with his dad when he was still in school. After high school he joined the military and spent 4 years serving his country in the U.S. Army. When he moved back to Springfield Don started his own remodeling business and ran it in the Springfield area for over 15 years. In December of 2013 he decided to narrow the business down to the trade he enjoyed the most and was best at.
Don wants All About Paint LLC to be an enjoyable and personal experience for his customers. He's a friendly guy who always has a smile on his face, and he likes to make his customers happy! He also stays in touch with his customers to make sure everything is going as they had planned. He realizes that not everyone understands all the processes it takes to make a project come together and wants to be accessible for any questions someone might have.
Jeremy is All About Paint LLC's workhorse employee. He can paint a straight line, run a paint roller, or stand knee-deep in Sheetrock dust from sanding all day. Either way, he's Don's right-hand man and a hard worker. He's honest, dependable and an all around great guy. And when you put the two of these guys together, things get done and done right. Both of them are very detail oriented and refuse to put their names on bad work. If you would like to see them in action just give All About Paint LLC a call today. 417-880-7834.
When you want quality painting services and prompt project completion, you have come to the right place! Our team of professional painting contractors are fully licensed and insured for your safety and peace of mind. Plus, all our work is guaranteed and we will not call the job finished until you are 100% satisfied!
Painting Services We Provide in the Springfield area
If you are looking for an experienced Springfield painter then please call 417-880-7834 or complete our online request form.